Educational Model & Philosophy
How will you track and inspire my son's progress?
We have a badge tracking system. Teachers will work with each student to identify skills and content goals that he needs to complete. Each time a student completes a goal, he will be awarded a badge. The badges are an exciting and motivational way to learn the lifelong skill of self tracking. Talmidim learn to compete with themselves instead of their fellow classmates.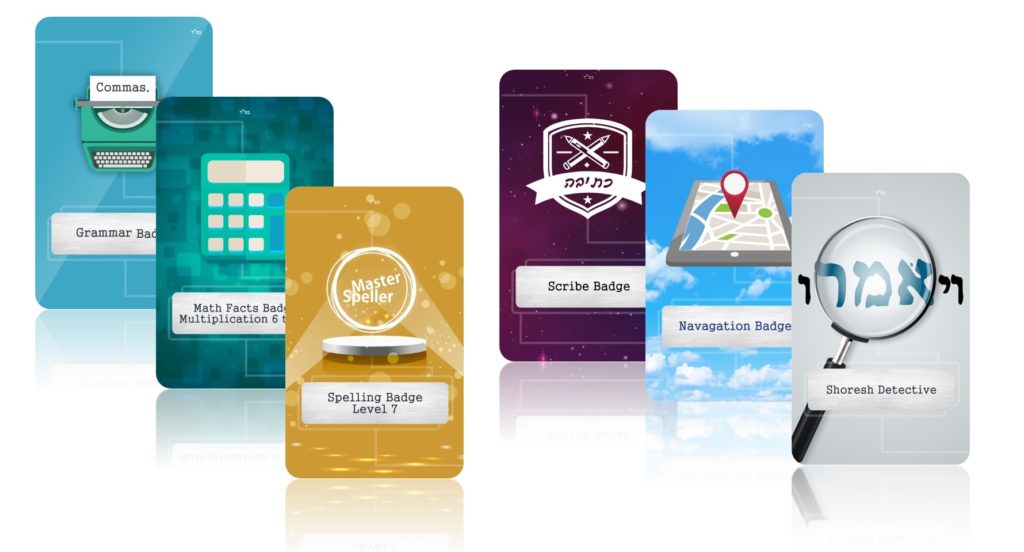 How is your educational philosophy different than other schools?
1) Our curriculum is structured around a "core competencies" framework, where students are expected to master specific skills before they progress to the next level. Such an approach makes monitoring student's progress readily definable, and provides critical insight into areas where additional assistance is required.
2) Our curriculum focuses on a skill-based differential learning method, ensuring every student remains challenged in their studies. The variety of teaching methods we implement allow us to engage 100% of the students 100% of the time.
What will the school experience be like for a parent?
We believe the key to excellent Chinuch lies in the ongoing partnership between the school and the parent. We maintain regular communication and collaboration with parents, ensuring the values, goals and expectations are shared across the board.
What is unique about your teaching method?
Our teachers are primarily subject-based and not grade-based, allowing the classroom to be tailored for the given subject and for the teacher to specialize in their given field. Teachers will remain with their students over a 3-year period, ensuring ongoing relationships and continuous pedagogy.
What is your approach to behavior and discipline?
We believe that no two children are alike, and that behavioral methods must be customized to suit each child's needs. Students are encouraged to take ownership of their own actions, and to develop a strong sense of responsibility to their peers and to enhancing the classroom environment.
How large will the class size be?
Classes will be no larger than 18 students.
---
School Identity
ULY Ocean Parkway is an already existing school. What is changing?
United Lubavitcher Yeshivah Ocean Parkway has undergone a complete management overhaul, resulting in a new school being created on old premises. The new school comes with a revamped staff structure, a new curriculum, and schooling philosophy.
Who is this school for?
United Lubavitcher Yeshivah Ocean Parkway is geared for Lubavitch families, who are seeking a well-rounded and wholesome education for their children. Our program incorporates a complete chassidishe chinuch with a comprehensive Limmudei Kodesh curriculum, supported by a General Studies and Life Skills curriculum. Our curriculum places a strong focus on developing good Middos, promoting דרכי החסידות, and cultivating important life skills.
Which grades will the school open with?
The school will open with Pre-1a, and 2nd grades. The school will grow each year, until it covers all years of elementary schooling.
Will students from the old school be to staying on?
Existing ULYOP students will have to reapply to join the new school and will undergo the same application process as any new student. The majority of the students from the old school are in the upper elementary division. The school will have an upper elementary program and a lower elementary program. Each program will be designed to service the students in their particular age group. To further assist with this model, various areas of the building will be appropriated for each division including separated bathrooms and common areas.
---
Daily Schedule & Transportation
When does the day begin and end?
The buses will leave their final Crown Heights stop at 8:20 and classes will begin at 9:00. Classes end at 3:45 each day for the younger grades.
How will my child get to school?
Busses will travel from Crown Heights to school and back each day. Children will be picked up from convenient meeting points in Crown Heights to minimize travel time.
Is the supervision on the bus? I am concerned about the bus ride.
 We are excited about our bus program. Each bus will be accompanied by a staff member, who will be responsible for the safety and comfort of the students, and will facilitate fun and productive programming during the bus ride.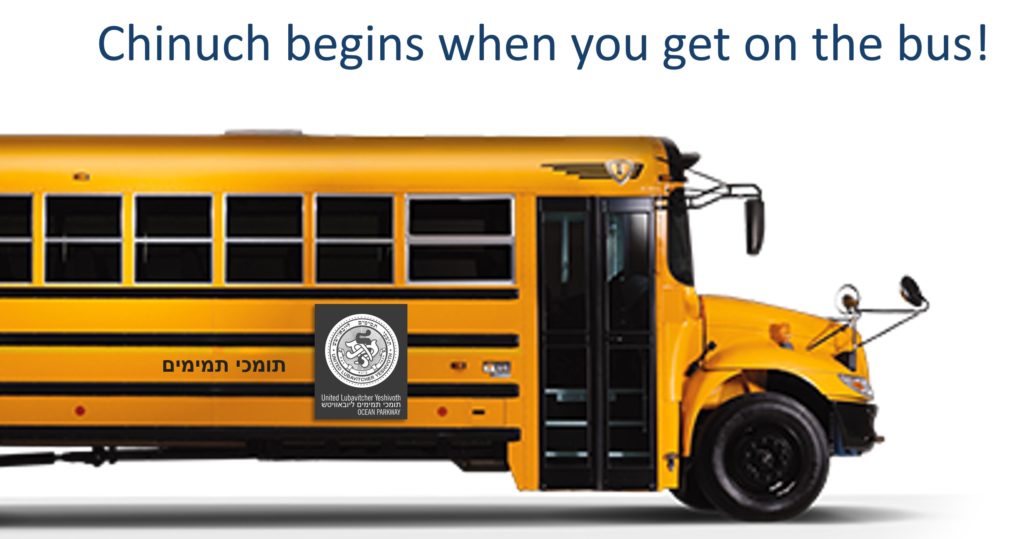 ---
Admissions
How old does my child have to be to join Pre-1a?
 Any child born between 10/1/2011 and 7/1/2012 will be eligible to apply for Pre-1A. If your child was born in August or September of 2011 or August or September of 2012 they will be considered on a case-by-case basis.
Are there any family standards or requirements to be met for my child to be admitted to the school?
Our goal is to create a Chassidishe environment where children can grow in their Yiddishkeit. It is important that every family enrolled is supportive of the yeshiva mission at home and in school.
Are there base academic requirements to be met in order to be admitted into the school?
Students should either be on grade level or be able to maintain academic progress in class and reach grade level with help.
Will students with an IEP be admitted into the school?
Students with an IEP will be admitted on a case-by-case basis. Acceptance will depend on whether the faculty feels the school is equipped to serve the child and whether the child will respond to our educational approach. A classroom may have approximately 10% of the children with an IEP, a ratio proven to benefit both segments of the classroom population.
How can I come visit the school?
The school will be hosting an open house on Wednesday, Pesach Sheini (May 10th, 2017) , where parents are invited to inspect the facility and meet the faculty. Alternatively, private tours can be scheduled by emailing admin@ulyop.com.
How do I enroll?
Follow this link to access the application forms. 
Click here.
---
Tuition & Scholarships
What will tuition cost?
Our tuition is uniquely structured as strictly cost-based and having no additional fees. The tuition of $10,500 per year covers the costs of your child's schooling, and there are no additional fees imposed throughout the year.
Click here to learn more about tuition.
Are there scholarships available?