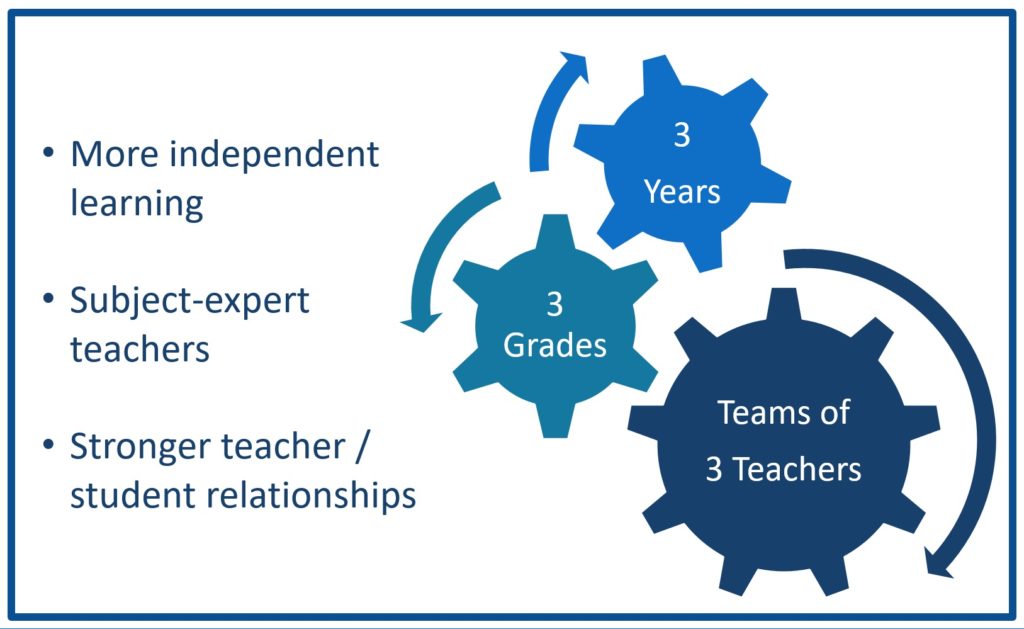 Teacher Teams
In our teaching model, teachers are primarily subject-based—not grade based. Grades are divided into groups of 3 grades. Each group has a team of subject expert teachers who serve all the grades in the group. These teachers collectively take responsibility for the progress of learning over multiple years, and work closely together to nurture the students and ensure continuous pedagogy. Teachers staying with students for several years means they don't have to restart the relationships each year.
Our Melamdim are continuously working on improving the quality of their teaching. Teachers spend approximately 1.5 hours each day in our Teachers' Center assessing their lessons, planning, collaborating with other teachers on student progress and teaching methodology, and engaged in professional development sessions. Teachers also participate in additional professional training, workshops, and coaching sessions after hours and during school breaks.
Our teachers know that their most foundational task is to serve as role model to the students, exhibiting the values, Midos, and learning behaviours they wish to impress upon the students.
Our teachers take personal responsibility for the efficacy of instruction and for the success of every student.
Learning for Life
Your child's time in school means more than just academics—it is an opportunity to develop their character, attain vital social skills, and establish themselves as contributing members of society. Our education provides students with the requisite tools to absorb information, think critically, and properly express themselves. Our balanced curriculum focuses on promoting essential life skills and attitudes such as compassion, respect, problem solving and teamwork.
Students can choose from a wide range of electives and clubs to participate in, including creative writing, music, chess, sports, and computer programming.

We believe life skills are not innate and need to be taught. Our curriculum places a key focus on מדות טובות, דרך ארץ, social skills, problem solving and developing critical thinking.
Educational Approach
Our educational approach has only one focus—your child's growth and well-being. Our skill-based differential learning method, creative teaching techniques, and strategic use of technology, ensure 100% of students are engaged 100% of the time, challenging your child to learn, grow and think critically on their own.
Our curriculum incorporates a wide range of teaching methods—small-group study, problem-based learning, discovery groups—all designed to limit traditional frontal teaching.   

Our teachers view their role as facilitators of learning, not merely as disseminators of information. Students are pushed to think on their own and tackle problems to discover their own conclusions.

Every classroom is equipped with interactive projector whiteboards and tablets for the students to work with.